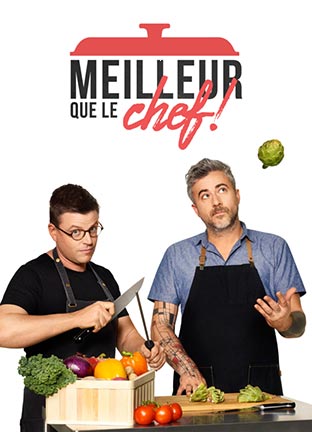 Genre: Cooking show
Original Title: Meilleur que le Chef!
Year: 2017
Original Version: French
Duration: 13 x 60′
Subtitled in: English
Beat the Chef!
Four cooking enthusiasts join forces and talents to try to beat one of the show's two professional chefs. Do they have what it takes to beat the chef? Who knows?
Danny St-Pierre, chef-owner of the Petite Maison restaurant, and Martin Juneau, chef-owner of the Pastaga and Cul-sec restaurants.
Our four amateur chefs all have the same goal: to create the best dishes that will beat or equal those of the chef.
The rules are simple: four timed challenges during which these amateurs can accumulate more and more money. But from one sitting to the next, one competitor will have to leave the competition.
For only one of them will make it to the grand finale for a chance to win.
Will they be able to beat the chef?
PRODUCTION TEAM
Hosts: Martin Juneau, Danny St-Pierre
Producer: Attraction Images