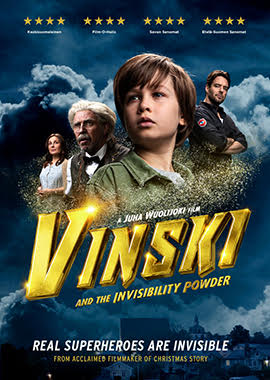 Genre: Family, Fantasy
Original Title: Vinski ja näkymättömyyspulveri
Year: 2021
Original Version: Finnish
Duration: 84′
Subtitled in: English
Vinski and the Invisibility Powder
In this new film by Juha Wuolijoki (Christmas Story), 10-year-old Vinski meets a mysterious pharmacist who gives him a bottle of powder that allows you to become invisible and walk through walls. Vinski uses his new powers for practical jokes at first, but later to help residents in the small town who have been hit by a crime wave. It's great to have superhero powers, but soon Vinski's talents attract a nasty band of crooks also interested in his secret of invisibility. Vinski learns that real heroes are invisible.
Director: Juha Wuolijoki
Writers: Jari Olavi Rantala, Juha Wuolijoki, Mauri Ahola
Cast: Kuura Rossi, Martti Suosalo, Mikko Leppilampi, Pirjo Heikkilä,
Producers: Juha Wuolijoki, p.g.a. and Laura Salonen, p.g.a.
Director of photography: Mika Orasmaa F.S.C.& Kjell Lagerroos F.S.C.