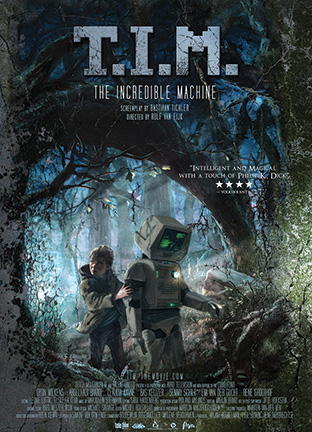 Genre: Family Collection, Sci-fi
Original Title: The Incredible Machine/T.I.M
Year: 2014
Original Version: Dutch
Duration: 82′
Subtitled in: English
T.I.M.
Eleven-year-old Tibor has only one friend: his house robot, T.I.M. When his father replaces the out-of-date robot, Tibor saves it from destruction. He sets out in search of the only one who can repair T.I.M.: the mythic robot maker Hector Sammler. During the adventurous quest through an unknown world however, T.I.M. slowly falls apart. It remains to be seen if they will ever find Hector.
Director: Rolf van Eijk
Writer: Bastiaan Tichler
Cast: Dyon Wilkens, Abdelhadi Baaddi, Claudia Kanne, Bas Keijzer, Ernst Löw, Tim de Zwart
Producer: Wilant Boekelman | René Huybrechtse | Paul Ruven
Delegate Producer: Roen Kiewik
Director of photography: Martijn van Broekhuizen
Art Director: Nicole Nieuwenhuis
Costume: Sara Hakkenberg
Sets: Roland Mylanus
Sound: Michaël Sauvage
Editor: Michiel Boesveldt
Music: Bart Westerlaken