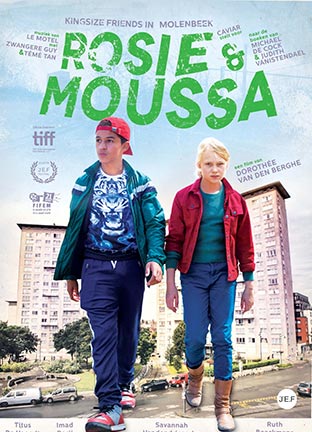 Genre: Familly
Original Title: Rosie & Moussa
Year: 2018
Original Version: Flemish
Dubbed in:
Rosie & Moussa
With her dad suddenly "out of town," Rosie and her mum move to a new apartment in Molenbeek. Adjusting to a new neighbourhood, attending a new school, and suspicious that her mother isn't telling her the whole story, Rosie reluctantly makes friends with her downstairs neighbour, Moussa. In contrast to Rosie's apartment, Moussa's home is always filled with cousins, aunts, uncles, laughter, and a little chaos! Despite their building manager's warnings, Rosie and Moussa ascend to the building's rooftop to escape the noise in their lives. There, they learn to trust each other with their secrets and stick together as they search for clues about the disappearance of Rosie's father. More than anything, Rosie wants to find her dad and reunite her parents so they can be a family once again; but will the truth match the adventurous narrative she has conjured up in her imagination? Based on the children's books by Michael De Cock and Judith Vanistendael, this story challenges perceptions of morality, family, and friendship.
Director: Dorothee van de Berghe
Screenplay: Micheal De Cock & Judith Vanistendael
Producer: Caviar, JEF & Ketnet