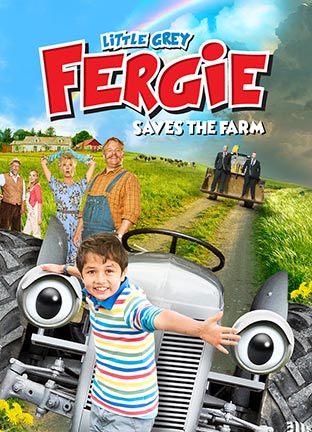 Genre: Family Collection, Fantasy
Original Title: Gråtass redder gården
Year: 2016
Original Version: Norwegian
Duration: 75′
Subtitled in: English
Little Grey Fergie Saves the Farm!
When the future of the farm is hanging by a thread, our endearing tractor must find a way to save it. The problem? A nearby mountain prevents one of its fields from getting sunlight. With the help of their friends, Gavin and Fergie set about to create a giant mirror that will reflect sun rays onto the shady field. A crazy solution that will require the assistance of every one in town!
Director: Peder Hamdahl Næss
Writers: Linda May Kallestein, Jason Tammemägi
Cast: Elias Søvold-Simonsen, Stein Winge, Jeppe Beck Laursen, Dagny Backer Johnsen
Director of photography: Michael Lavelle
Producers: Silje Hopland Eik, Dyveke Bjørkly Graver, Jacqueline Kerrin, Dominic Wright
Art Director: Patricia Douglas
Costume: Lyn Avery
Set Design: Eleanor Wood
Sound: Colm Mullally
Editor: Leif Axel Kjeldsen
Music: Lars Kilevold