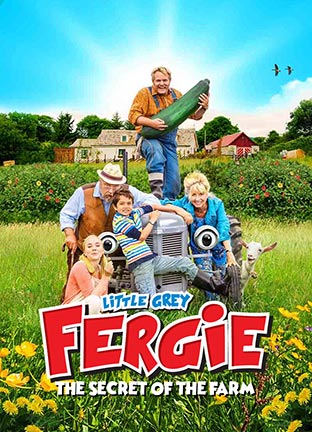 Genre: Family Collection, Fantasy
Original Title: Gråtass – gøy på landet!
Year: 2016
Original Version: Norwegian
Duration: 77′
Dubbed in: English
Little Grey Fergie: Country Fun!
Fergie is no ordinary farm tractor. He does not only belong to a legendary antique tractor brand. He is even alive! He has a heart, a heart that beats for his friends. Fergie will help Gavin save a baby sheep from being taken away. From the producer of Trigger and Emma & Casper comes this brand new endearing tale, the first of a trilogy. Shot in Ireland.
Director: Peder Hamdahl Næss
Writers: Linda May Kallestein, Jason Tammemägi
Cast: Elias Søvold-Simonsen, Stein Winge, Jeppe Beck Laursen, Dagny Backer Johnsen
Director of photography: Michael Lavelle
Producers: Silje Hopland Eik, Dyveke Bjørkly Graver, Jacqueline Kerrin, Dominic Wright
Art Director: Patricia Douglas
Costume: Lyn Avery
Sound: Colm Mullally
Editor: Leif Axel Kjeldsen
Music: Lars Kilevold