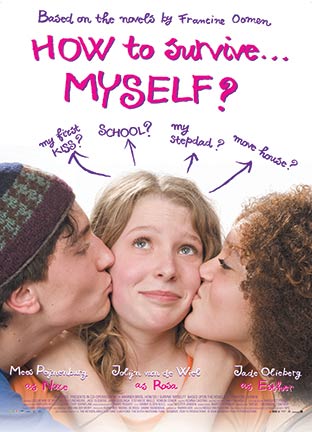 Genre: Family Collection, Coming-of-Age
Original Title: Hoe Overleef ik… Mezelf?
Year: 2008
Original Version: Dutch
Duration: 98′
Subtitled in: English
How to Survive Myself?
Rosa van Dijk is a sensitive and insecure thirteen-year-old girl with a vivid imagination. She has a talent for drawing, likes to chat a lot with her friends on MSN and has a good sense of humour. She eventually has to move to another city, together with her eight-month old stepbrother and mother, to live with her new step-dad. Far away from her friends in a new environment, she struggles with her insecurity, her step-dad, and her alter ego Rooz. Whatever she tries, her problems seem to only grow bigger. How will she survive?
Director: Nicole van Kilsdonk
Writer: Tamara Bos
Cast: Jolijn van de Wiel, Mees Peijnenburg, Jade Olieberg, Janni Goslinga, Stefan de Walle, Romijn Conen, Pascal Tan, Floor Arink, Annemara Post, Dragan Bakema
Producers: Burny Bos, Michiel de Rooij, Sabine Veenendaal
Executive Producer: Han van der Werff
Director of photography: Danny Elsen, N.S.C.
Art Director: Genaro Rosato
Costume: Margriet Procee
Sound: Marco Vermaas
Editor: Wouter Jansen
Music: Wiegel, Meirmans, Snitker